Best Beach in St. Augustine: A Local's Perspective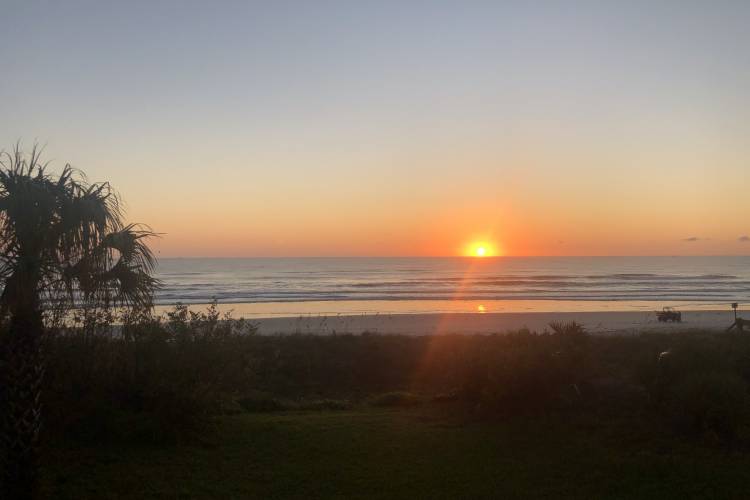 South of SR 206 along A1A South in St. Augustine sits a stretch of pristine, white beach known as Crescent Beach. 
Directly in front of the Atlantic Ocean, Sand Dollar Condominiums provide spectacular views from every one of its three- and four-bedroom condos.
There's more than one reason why people continue to visit Sand Dollar year after year.  We'll let you in on the secret and tell you why Crescent Beach is the Best Beach in St. Augustine to visit.
Crescent Beach is Wider, Whiter & Cleaner
Based upon the natural formation of Anastasia Island, Crescent Beach is known to have wider sections of sand between the protective dunes and rolling ocean waves.  You'll also find that the sand is whiter and cleaner than other beaches in St. Augustine, primarily because it's well maintained and reason #2 below.
Crescent Beach is Less Crowded
Along A1A Beach Blvd & A1A South in St. Augustine Beach, there are several areas where locals and travelers can drive on the beach or have access to public boardwalks.
Not in Crescent Beach!  This section of the Island is lined with private residences and condominiums, so the only people soaking up the sun next to you will be other Sand Dollar guests or owners.
Enjoy Crescent Beach From Sand Dollar
At the entrance to Sand Dollar Condominiums, choose to go south or north along A1A for a quick drive to award-winning restaurants, historic attractions, national and state parks, and cultural events. 
After a day of adventures in St. Augustine, return to your secluded oceanfront paradise, away from the hustle and bustle.
Tucked Between the Mantanzas River and the Atlantic Ocean
Sand Dollar is perfectly situated between two bodies of water--the sparkling Atlantic Ocean to the east and the salty marshlands of the Mantanzas River to the west. 
Sip on a rousing cup of coffee on your private balcony while enjoying the lapping ocean waves on the sandy shore in the morning.  At dusk, grab a glass of wine and experience the most romantic sunset over the River--the beginning of an unforgettable evening.
Fishing is Nearby
Make sure your fishing permit is current and start off a relaxing morning with a bucket and a fishing pole.  Get hooked again and again while breathing in the salty air and feeling the cool breeze from the Matanzas River.
Plan Your Crescent Beach Vacation
Make the dream a reality and book your next oceanfront vacation with Coastal Realty at Sand Dollar Condominiums. Contact us today for assistance in creating the best St. Augustine travel experience.