Capturing Memories: The Best Scenic Spots for Photos in St. Augustine, FL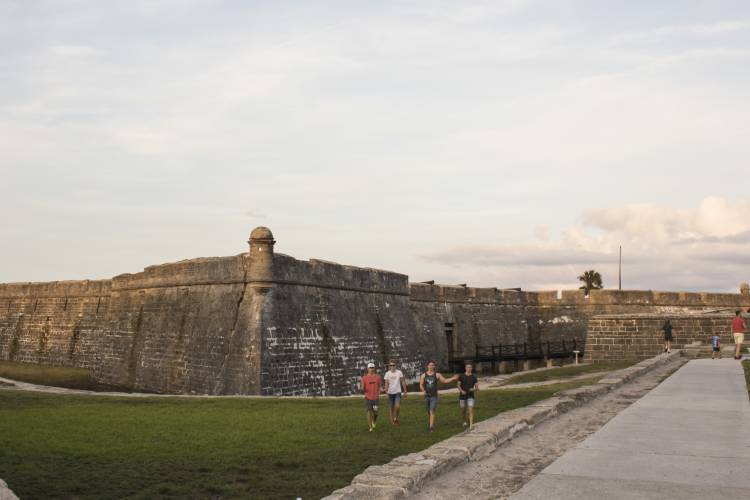 St. Augustine, Florida, is a city that combines history, charm, and natural beauty effortlessly. Known as the "Ancient City," it is the oldest continuously inhabited European-established settlement in the United States. With its cobblestone streets, historic architecture, and stunning coastal landscapes, St. Augustine is a paradise for photographers of all skill levels. Whether you're a professional photographer or just looking to snap some Instagram-worthy shots, this blog will guide you through the best scenic spots for photos in this enchanting city.
Castillo de San Marcos
Begin your photographic journey at the iconic Castillo de San Marcos. This centuries-old fortress boasts a breathtaking backdrop of the Matanzas River, creating a perfect setting for both sunrise and sunset shots. The soft, golden light casts a warm glow on the coquina walls, making it an ideal spot for capturing the city's history and beauty. You can capture some stunning sunrises here and along the Bayfront.
Bridge of Lions
This beautifully adorned drawbridge is a St. Augustine landmark, connecting the historic downtown to Anastasia Island. The statuesque lion sculptures and the reflective waters of Matanzas Bay create an ideal frame for your photos. Early morning or late afternoon light will enhance the ambiance of this location.
St. Augustine Lighthouse and Maritime Museum
For panoramic views of St. Augustine and the Atlantic Ocean, climb the 219 steps to the top of the St. Augustine Lighthouse. From here, you can capture stunning vistas of the city, the coastline, and even the picturesque Anastasia Island. The lighthouse grounds themselves offer unique photo opportunities, with charming outbuildings and maritime exhibits.
The Historic District
Wander through the historic district's cobblestone streets and discover a treasure trove of photography opportunities. The city's Spanish colonial architecture, colorful facades, and lush gardens provide endless possibilities for capturing the essence of St. Augustine. St. George Street and Aviles Street are particularly photogenic areas to explore. Unlike the surrounding brick-lined streets, Aviles Street is special. Aviles is the oldest street in the nation and the early home to St. Augustine's arts district. Enter Aviles Street by walking under the stone archway. Today it is a thriving arts district with several galleries with all styles of art, jewelry, handmade leather goods, boutiques, and antique shops. Sidewalks are lined with outdoor seating for independently owned-restaurants and cafes. St. George St. is pedestrian-only and has much to offer with restaurants, attractions, shops, and historical sites that provide wonderful photo ops. You can't go wrong almost anywhere in this district for memorable photos. At the northern end of St. George St. is one of our historic city's recognizable landmarks - The City Gate. This gate, rich in history, is a wonderful spot for a photo to remember your wonderful visit here.
Flagler College
Formerly the Ponce de León Hotel, Flagler College is a masterpiece of Spanish Renaissance architecture. The campus is a photographer's dream, with its ornate details, arched walkways, and courtyards. Be sure to visit the interior as well, as the opulent Flagler Room and rotunda are equally impressive. Tours of this exquisite building are daily at 10 A.M. and 2 P.M. It is highly suggested you purchase tickets prior to your arrival at https://bit.ly/3f335gw.
Magnolia Avenue
This street, shaded by a canopy of majestic oak trees, is considered one of the most photogenic streets in America. The filtered light through the branches of the trees makes for perfect photographs, and you might even be photo-bombed by one of the resident peacocks or peahens! This street is also the site of Ponce de Leon's Fountain of Youth Archaeological Park. Your camera will be very busy with the exhibits, muskets, and cannon firings! And during the spring to early June, you may even get to photograph a peacock in full display!
Anastasia State Park
Nature enthusiasts will love photographing the unspoiled beauty of Anastasia State Park. Miles of pristine beaches, sand dunes, and lush maritime hammocks provide a tranquil setting for capturing the natural wonders of St. Augustine. Sunrise or sunset at the park is a must for stunning coastal shots. Renting a kayak is a wonderful way to get close to the marine wildlife for beautiful photos in Salt Run.
Matanzas Inlet
Located just south of St. Augustine, Matanzas Inlet offers a serene backdrop for photographers. The convergence of the Matanzas River and the Atlantic Ocean creates a dynamic landscape. Look out for the historic Fort Matanzas and the picturesque bridge spanning the inlet. This is another great spot for spectacular sunrise photos on the beach side and equally great sunset photos on the Intracoastal side.
Vilano Beach Fishing Pier
We have many spots for beautiful sunsets, but the pier at Vilano provides an extra special view over Matanzas Bay. A must-get photo is of the Blue Bird of Happiness. He is always willing to pose!
The Florida Birding Trail
Are you a birder or love to photograph birds? St. Augustine and St. Johns County are part of the Florida Birding Trail, with places to photograph some of our resident or transient birds. The following places are on this trail: Alpine Groves Park, Anastasia State Park, Faver-Dykes State Park, Fort Matanzas National Monument, Fort Mose Historic State Park, Guana River Wildlife Management Area, Guana Tolomato Matanzas National Estuarine Research Reserve, St. Augustine Alligator Farm Zoological Park, Vaill Point Park, and the Vilano Boat Ramp.
St. Augustine Alligator Farm Zoological Park
This is the perfect photo spot for lovers of all things reptilian. With alligators and crocodiles galore, you will take many photos! Of course, this park also has many other animals to discover - birds, tortoises, monkeys, frogs, turtles, squirrels, marmosets, sloths, and others. From March to June, the rookery over the Alligator Swamp is very active, with local and migratory birds nesting. As you walk along the boardwalk, you will see birds nesting almost within arm's reach! Also, during this time, the gators are "looking for love," so you might see and hear the males with deep, throaty roars make the water dance and hear over a mile as they do their best to attract the females of their choice! Standing on the boardwalk, you can feel the vibrations when many males sing their love song.
St. Augustine, FL, is a photographer's paradise, offering a rich blend of history, architecture, and natural beauty. Whether you're capturing the city's historic landmarks, the scenic coastal landscapes, or the myriad types of wildlife, there's no shortage of picturesque spots to explore. Remember to check the weather and lighting conditions for the best results, and don't forget to immerse yourself in the city's unique charm as you capture its essence through your lens.
Book your St. Augustine Vacation Rental