Fine Dining in St. Augustine, FL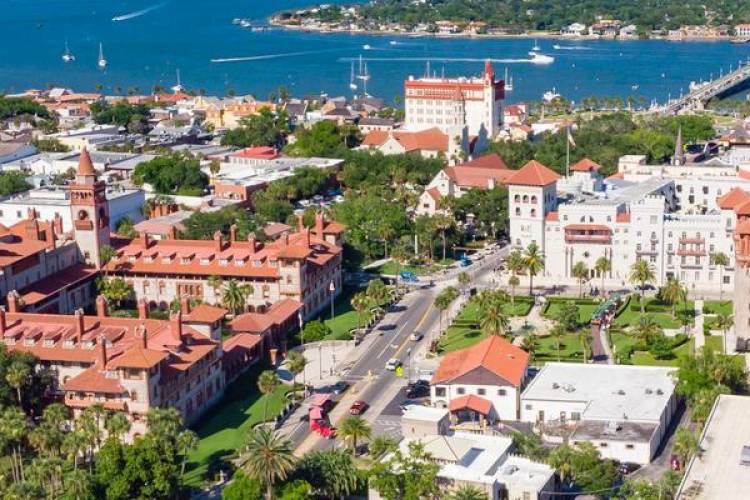 During a recent presentation on tourism in our beautiful ancient city, it was pointed out that people travel here not only as a beach destination but as one for fine dining. So, if you are visiting and in search of a restaurant for a honeymoon date, anniversary, or birthday celebration, or just because, check out the list of restaurants for a dining experience to make your lunch or dinner celebration extra special!
Collage Restaurant $$$ American (New)
It's all about quality. When dining at Collage, be prepared for a first-class, award-winning experience. The menu reflects the eclectic tastes of owners Mike Hyatt and Cindy Stangby and focuses on fresh local seafood, steaks, lamb, and veal, using international flavor profiles. Located just a block off St. George Street in the heart of the historic district. Collage serves dinner nightly from 5:00 p.m.
Preserved$$$ Southern, Wine Bars, Breakfast, & Brunch
Regionally sourced ingredients - We are committed to serving you fresh, regionally sourced ingredients.
Dishes crafted in-house - All our dishes are made in-house with care for your enjoyment.
Total transparency - You'll always know what your ingredients are and where they come from.
Michael's $$$ Seafood, Steakhouses, Wineries
Located in Historic St. Augustine Florida, Michael's offers a casually elegant dining experience with a celebrated chef, dedicated staff, and passion for exquisite flavors and world-class wines. Michael's has received numerous honors and accolades.
Forgotten Tonic$$ Wine Bars, American (New), Cocktail Bars
Forgotten Tonic is a hidden neighborhood gem located in the heart of St. Augustine's historic art district . We feature modern twists on freshly prepared American comfort food, an extensive wine list, hand-crafted cocktails & captivating southern hospitality.
Cafe Alcazar $$ American (New)
Café Alcazar is an elegant eatery situated in the space of the Lightner Museum originally designated for the largest indoor swimming pool. Our innovative chefs take pride in creating truly unique dishes made from the freshest ingredients, local and organic. We are open seven days a week from 11AM to 3PM for lunch. While reservations are not required, they are HIGHLY recommended, especially between October and March.
Catch 27 $$ Southern, Seafood, Bars
Catch 27 stands in the heart of historic St. Augustine, Florida.  We believe in preparing and serving fresh, locally caught seafood from the nation's 27th State.  We cook everything from scratch with seasonal ingredients and local produce. Our Fish, Shrimp, and Clams are caught in Florida waters, delivered fresh every day.  The selection varies from Snapper to Sheepshead, Mahi Mahi to Triggerfish, and Flounder to Black Drum.  Sea folk and Landlubbers will all find something they'll enjoy.
The Ice Plant $$ Cocktail Bars, American (Traditional), Distilleries
Inspired by the historical period of the early 20th century, our idea is to reintroduce our guests to a time where the experience of having a cocktail and a bite to eat was both healthful and enjoyable. Focused on the art and craft of mixing exceptional local ingredients in precise measurements to create perfect and unique flavor profiles. The farm to table restaurant and bar is open for lunch and dinner. Serving grass-fed beef and burgers, local seafood, with vegetarian options and daily specials.
The Floridian $$ Southern, Vegan, Cocktail Bars
We call it 'innovative southern fare for omnivores, herbivores and locavores.' Regionally inspired and fresh from the source, our cuisine is a synthesis of down-home southern comfort foods, and lighter, healthier, vibrant, and creative dishes--with many vegetarian options. We support local growers and producers because--to us--that just makes sound, sustainable sense. Our menu changes continuously with the seasons, and will reflect our sincere appreciation of traditional Southern cooking with an updated dedication to keeping it fresh--literally and figuratively.
Costa Brava $$$ Mediterranean, Comfort Food, Beer, Wine & Spirits
Infusing Mediterranean flavors with Spanish tapas-style dining, Costa Brava features an enticing menu and an impressive collection of premium wines. Our hotel's on-site restaurant serves refreshing dishes for breakfast, lunch, and dinner in St. Augustine.

BlackFly $$$ Seafood, Steakhouses, Pizza
Blackfly The Restaurant is a very important part of the iconic Blackfly Brand which includes the Blackfly Outfitter and Blackfly Fishing Lodge in the Bahamas. Blackfly, known mostly in the world of professional fly fishing, has always represented the qualities of authenticity and the highest of standards, Blackfly The Restaurant is no different and has become recognized for its creativity and excellence in all phases of what makes a restaurant great.
After a fine dining experience, retreat to your spacious oceanfront condo at SandDollar to enjoy the view, ocean sounds and breeze from your balcony with your loved one. Here, you can satisfy your epicurean as well as beach cravings. See you soon!