Special Events During the Nights of Lights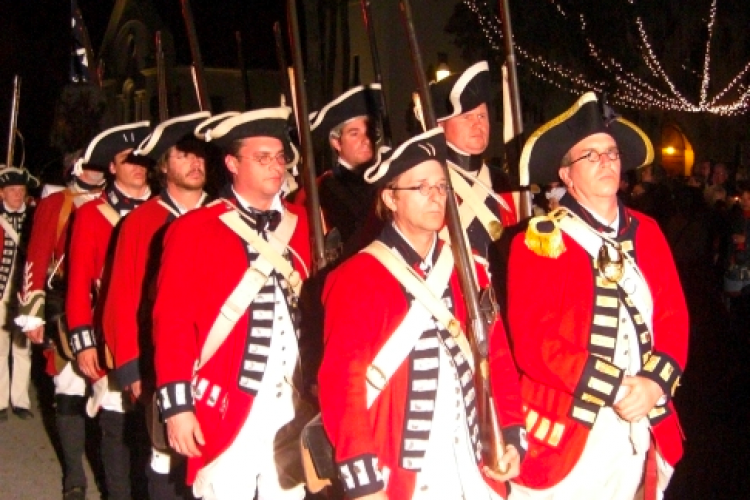 CHRISTMAS ON THE FARM AT SYKES FAMILY FARMS 
5995 Brough Road
Elkton, FL 32033
 Phone: 904-692-1370
Admission: $15 per person
Time: 6:00 PM to 11:00 PM
Enjoy a hayride through this ¾ mile drive through Christmas light display at the Sykes Family Farms. Bring the family, sip on hot chocolate or apple cider while roasting s'mores over the large fire pit. Mr. & Mrs. Claus are visiting from the North Pole so be sure to get some great pictures. This event runs Fridays & Saturdays, 6-11 p.m. from November 26th-December 18th. Visit www.sycofarms.com/christmas-on-the-farm/ to purchase tickets.
COLONIAL NIGHT WATCH
Colonial night watch
33 St. George Street
Phone: 732-309-2322
Admission: Free
Time: 8:00 AM to 5:00 PM
December 4, 2021
British Regulars, Spanish troops and East Florida Rangers will demonstrate musket firing on the Castillo South Lawn. In town, the Colonial Quarter Museum will be open to the public. There you will find a military encampment representing British, Spanish and East Florida Ranger troops. Paraphernalia of the period will be on display along with musket firings in the Colonial Quarter throughout Saturday.
Friday, participants set up a military encampment in the Colonial Quarter Museum. Displays will be available for families and children to learn about the contributions of Florida in America's Revolution.
The St. Augustine Colonial Night Watch Torchlight Parade is at 7 p.m. from the Castillo to the Governor's House Cultural Center & Museum, 48 King St.
"NOCHE DE NAVIDAD" AND LAS POSADAS AT MISSION NOMBRE DE DIOS
Las Posadas
101 San Marco Ave.
St. Augustine, FL 32084
Admission: Free
Time: 5:00 PM to 10:00 PM
DECEMBER 18, 2021 TO DECEMBER 19, 2021
Celebrate Las Posadas commemorating the journey that Joseph and Mary made from Nazareth to Bethlehem at the Mission Nombre De Dios. Each evening from 5 to 10 p.m. there will be five tours for Las Posadas and two performances of the Living Nativity and Eucharistic Adoration. Eucharistic Adoration is not a performance, people will come and go during the time it is open. Admission is free. Reservations required.