Go On a St. Augustine Distillery Tour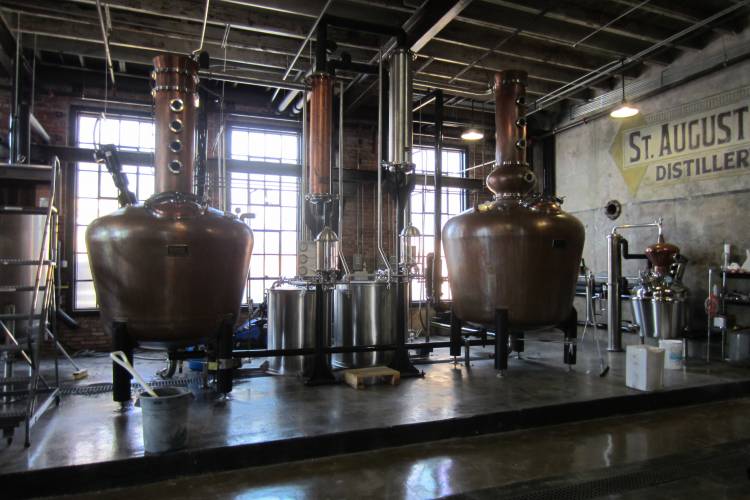 Visit the St. Augustine Distillery and learn how locally sourced craft spirits are made and have helped enhance the St. Augustine community. For visitors 21 and over, enjoy free samples of several of the spirits made in the facility, either straight or in a crafted cocktail.
Step back in time and experience one of the newest and best free tours in St. Augustine during your oceanfront vacation at Sand Dollar Condominiums!
What makes this tour so unique?
The Distillery is located in Florida's oldest Ice Plant. Built in 1907, The Historic FP&L Ice Plant was part of St. Augustine's first power and ice complex in the community.  During the tour, you will learn about the history of the building and how it relates to the fine spirits that are being distilled today. 
This beautifully restored vintage building offers visitors a glimpse into the past and puts learning about the history of St. Augustine on a completely different level.
Sample award-winning spirits for FREE.
After learning about how these spirits are made using local crops, farmers, and workers, experience a handcrafted adult beverage in The Tasting Room. Enjoy a St. Augustine Mule made with the multi-award winning Florida Can Vodka, a classic Gin & Tonic made with New World Gin, and a one of a kind Old Fashioned made with Florida Double Cask Bourbon.
Straight or neat spirits can be sampled in the bar area within the gift shop. Choose your favorite (there may be more than one) and take them home with you as a deluxe souvenir you'll be able to enjoy again and again.
Tours are quick, informative, and close to one of St. Augustine's best restaurants.
With a guided tour every 30 minutes between 10:30 am and 5 pm daily, The Distillery gives many visitors the opportunity to explore the facility, learn about how spirits are made, and drink delicious cocktails. 
Stay For Dinner at The Ice Plant
Within the same building is one of St. Augustine's most unique and eclectic fine dining restaurants—The Ice Plant. 
This spot is known for its tall industrial ceilings and intimately lit rooms huddled around a stunning vintage bar where guests enjoy gourmet cuisine with a 1920's vibe.
The bar prominently features signature cocktails from, you guessed it, The St. Augustine Distillery, so your tour doesn't have to end after the guide says farewell.
Book Oceanfront St. Augustine Vacation Rentals at Sand Dollar
Experience the best St. Augustine attractions, including the St. Augustine Distillery, during your Crescent Beach vacation at Sand Dollar.  Wake up to the smell of the ocean breeze and see the waves from your private balcony.  Don't wait any longer—contact us today!