St. Augustine for History Buffs!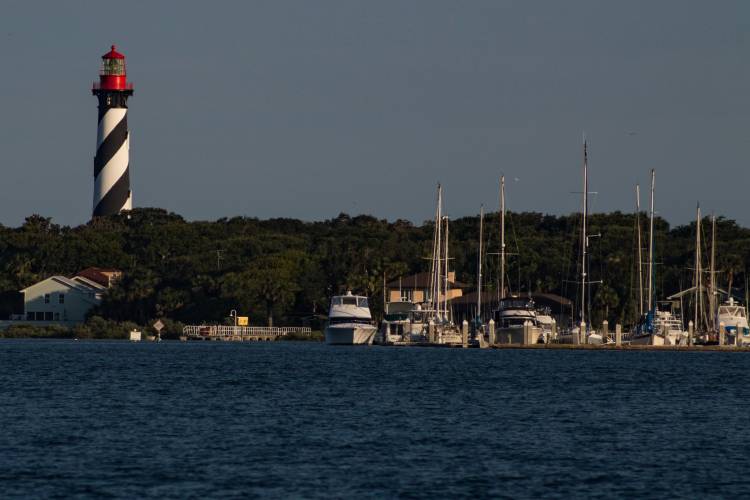 With nearly 500 years of history, St. Augustine offers tours and experiences to satisfy any history devotee!
Colonial Quarter - learn about colonial blacksmithing, see a live musket demonstration, climb the Spanish watchtower for a great view of the Castillo de San Marcos and the bayfront, and stroll beneath all the flags that have flown over our Ancient City.
Fort Mose Historic State Park - Many educational opportunities are available, particularly for visitors interested in history or wildlife viewing. Those inclined toward history will enjoy the interactive museum that tells the complete story of the first legally sanctioned free African settlement in what would become the United States. Although there are no remains of the earth and wooden structures, visitors can view the land where the settlement once stood.
The first Saturday of each month is the monthly Militia Muster where you can experience musket firing demonstrations, chat with reenactors, and learn how the Fort Mose militia protected St. Augustine from invasion by the British. The next Muster is August 6, beginning at 9:30 AM. It is a free event.
Fountain of Youth - Whether you're interested in the saga of Juan Ponce de Leon and his search for new lands and magical waters, or the tragedy of the Timucua civilization, or even the fascinating story of Pedro Menendez de Aviles and the settling of St. Augustine, come to Ponce de Leon's Fountain of Youth Archaeological Park. There are many exhibits and demonstrations (blacksmith, cannon, muskets), a Spanish Lookout, and the Menendez Statue/Park. And the large flock of peahens and peacocks are also sure to keep you entertained.
St. Augustine Lighthouse & Maritime Museum - Climb the lighthouse tower for the best view in town! Please be aware it is 219 steps to the top and children must be at least 44" tall to climb the tower and must walk themselves.  View exhibits housed in four historic structures and the Maritime Education Center and enjoy hands-on activities for all ages indoors and outdoors on the site. Experience daily demos about lighthouses, boat building, and maritime archaeology, and view shipwreck artifacts being conserved in the lab. See wooden boatbuilding in progress. Learn about the role of St. Augustine and North Florida in the new World War II exhibit. Children can enjoy the Cracker's and Eliza's Club featuring a shipyard play area and the whol family can  take a walk on beautiful nature trails.
Old Jail Museum - Listed in the National Registry of Historic Places, The Old Jail is a must-visit when in St. Augustine! Built to look like a hotel in the Romanesque Revival style and painted in an unassuming color (because Henry Flagler did not want an eyesore that would strike fear in the public and discourage investors), visitors will find that the Old Jail has been renovated to give tourists a glimpse into the daily lives of St. Augustine's most notorious prisoners living under the penal system of the 19th and early 20th centuries. Costumed actors tell tales of the jail and its occupants, and even book you as an inmate! Additionally, the Old Jail has a large collection of weapons and artifacts for you to inspect up close and is one of just a few prisons of its kind still standing that makes for a great day of sightseeing on a historical adventure. It would be a crime if you didn't stop by for a visit! You can also have an encounter in the Old Jail on a St Augustine ghost tour.
Castillo de San Marcos - Built by the Spanish in St. Augustine to defend Florida and the Atlantic trade route, Castillo de San Marcos National Monument preserves the oldest masonry fortification in the continental United States and interprets more than 450 years of cultural intersections.
Just a few historical sites have been mentioned in more detail, but other sites are the Oldest House  Museum Complex, Ximenez-Fatio House Museum, Lightner  Museum, Oldest Store Museum Experience, Old City Gate, St. Augustine History Museum, Governor's House Cultural Center and Museum, the Llambias House Garden, Historic Tours of Flagler College, Villa Zorayda Museum, the Plaza de la Constitucion, and Potter's Wax Museum
As you can see, everywhere you go in St. Augustine, you will encounter history. After your time-travel adventures, you can return to the modern amenities in your spacious oceanfront condo at Sand Dollar enjoying the expansive ocean views, the breezes, and waves crashing on the beach!